You want social media share buttons on your WordPress site, but you're struggling to sift through the thousands of social share button plugins available on the Internet. Sound familiar?
Too much choice is often just as hard as too little choice. And in this post, by sharing 11 of the best WordPress social media sharing plugins out there, I want to help you pick the right plugin for your needs.
The best social media sharing plugins for WordPress in 2020
Social Snap does have a limited free version at WordPress.org, but many of the features that I'll mention below are only available in the paid versions.
Over 30 Most Popular Social Networks & Apps to Choose:
Social Snap includes over 30 social networks & apps to choose from, allowing your visitors to share your content through their favorite app or network.
And Social Snap supports vertical Pinterest images – a great way to get more shares. So, if you're looking for a Social Warfare alternative, this is the plugin for you. There's even a built-in migration tool.
Now that's the basic sharing functionality, but Social Snap can also go a lot further…if you want it to. You also get access to features like:
Click to Tweet boxes – Quickly add these boxes to your content to drive more shares and traffic.
Social media auto-poster – Automatically share new (or old) posts to your social media profiles.
Boost old posts – Re-shares your older content to Twitter and LinkedIn, to give it a new lease of life.
Social login – Allows your visitors to login to your site via social networks (useful if you run a membership site).
Device targeting – I almost missed this feature. You can choose certain networks to only display on desktop, while others will only display on mobile. For example, I use an email button on desktop, but mobile visitors will see WhatsApp instead. Cool right?!
Price: Paid version starts at $39. Paid version with all add-ons starts at $99.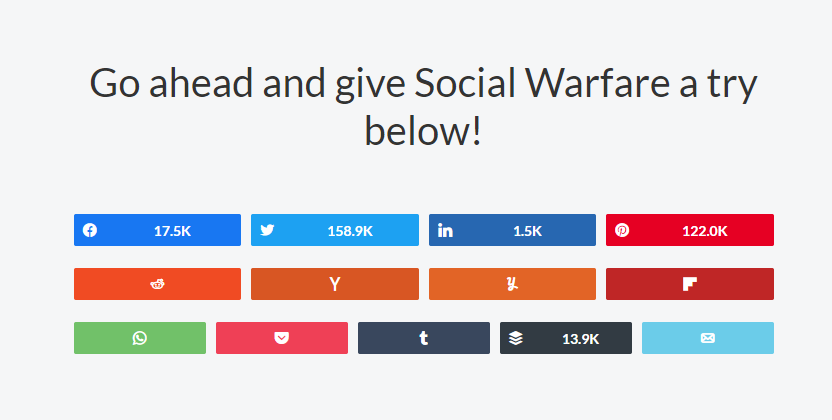 Best Social Sharing for WordPress
Social Warfare adds beautiful, lightning-fast social share buttons to your website or blog. But that's only the beginning…
The attention to design aesthetic is second to none. We care how your site looks, and we also allow you to customize the colors to your liking.
Setting up your social sharing buttons has never been easier with our simple, "works-out-of-the-box" setup.
Most social sharing plugins are detrimental to your website load times. This is bad for both users and for SEO. Social Warfare is lightning fast and lightweight so your load times are solid!
With our Share Recovery feature, you'll never have to worry about losing your social share counts when changing your domain name or moving to SSL.
Make sure that your visitors share your content in a way that's going to drive traffic back to your site with custom images, titles, and descriptions!
We are not a "one-man-show". Our support team cares deeply about making sure you have all the help you need if you have questions or encounter trouble.
3. Monarch :
Social Sharing
Over 20 Social Networks to Choose From
Social Media is the lifeblood that keeps the internet glowing. Social Sharing lets you harness that activity and use it as a positive force for your business.
Choose from more than 20 social sharing networks to display on your website to create a custom collection of sharing options for your visitors.
Add Sharing Buttons in 5 Different Locations
Pop & Fly!
6 Automatic Pop-Up & Fly-In Triggers
Pop-ups and Fly-ins can be triggered by unique user interactions. This allows you to capture your visitors' attention when they are most engaged or when they are in danger of leaving your page.
Letting your users see your social networks profiles, follow counts, and easily become a follower is more than important for any business or individual. Monarch makes all of the above possible with just a few easy settings.
4. MashShare :

Mashshare is an extensible free social share media ecosystem for the best possible social sharing optimization of your website.
You find Add-Ons for Velocity Graph, Google Analytics integration, mobile sharing optimization, responsive design and much more in the Add on Section.
Grow your traffic with this Supercharged Share Buttons for WordPress.
Do you want to attract an insane amount of traffic to your WordPress site from Facebook, Twitter and other social networks? Then you need an easy-to-setup eye-catching "Share it" button that will make visitors want to spread your awesome content.
No matter which plugin you choose, I highly recommend playing around with the placement of your buttons and the ordering of your social networks to find the combination that gets you as many shares as possible.