The trend of investing in cryptocurrencies is on the rise, as it can yield a significant profit if done correctly. You must know all best platforms to sell and buy Cryptocurrencies in India. Whether it's the most expensive Bitcoin or the cheapest cryptos like WIN or BTT, every crypto is being booked every second and profiting many people.
There are numerous platforms that allow to sell and buy cryptocurrencies, are widely available on PC/Laptop.
Recently, the same has been made available on mobile platforms, allowing traders to trade at any time, whether strolling or dining.
The issue only arises when it comes to genuine apps that provide on-time payments and are completely trustworthy.
ALSO READ: The unique story of the Twins sisters 'Nature' and 'Future'
There are also thousands of bogus apps that grab users' money and show them that they've bought a coin that can't be redeemed because it's all a scam.
I've compiled a list of all the legitimate and trustworthy apps that can be used to buy Bitcoin, Ethereum, Ripple, and a variety of other 100+ cryptos.
1. WazirX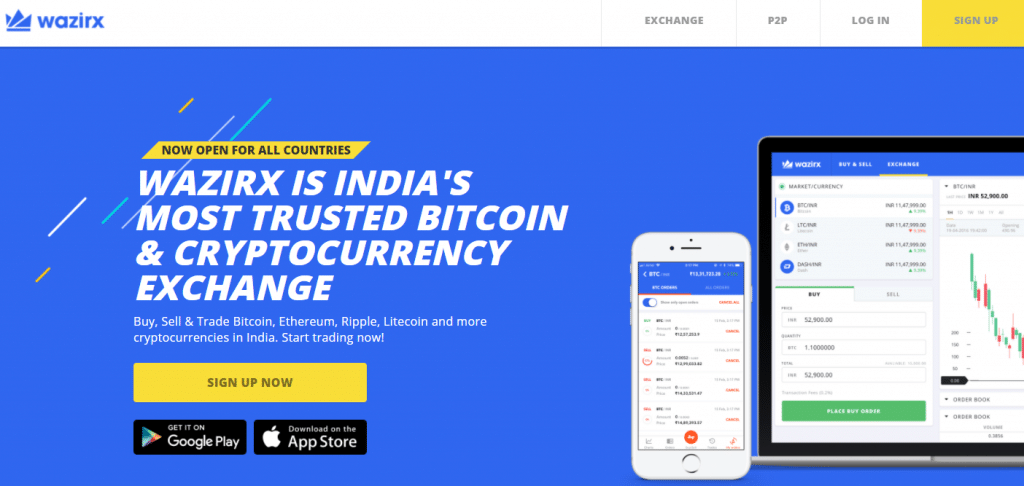 WazirX is one of the most popular trading apps among Indian crypto purchasers, and it is commonly used to acquire 100+ cryptos.
A variety of cryptocurrencies can be purchased with INR, USDT, BTC, and even P2P.
The tournament information page provides details about various tournaments.
You can also invite and win via the options menu.
WazirX has its own cryptocurrency, WRX, which you can buy with INR and then use to invest in a range of other cryptocurrencies.
They also have extremely cheap maker and taker costs, which are only 0.2 percent of the total trading volume.
You can start trading by completing a few simple steps like sign-up, KYC completion, depositing INR, and placing an order.
2. Binance
Binance is a cryptocurrency exchange that allows users to trade a variety of cryptocurrencies.
As of April 2021, Binance was the world's largest cryptocurrency exchange in terms of trade value.
Binance has always been at the forefront of new coin releases, with over 200 cryptocurrencies including Bitcoin, Ethereum, Link, Tezo, Cardano, and Binance Coin.
3. Coinbase
Coinbase is dedicated to enabling 56 million consumers, 7,000 companies, and 115,000 ecosystem participants in over 100 countries to save, save, receive, and use cryptocurrencies in a fast and safe manner.
Wallet tokens for Bitcoin (BTC), Bitcoin Cash (BCH), Ether (ETH), Ether Classic (ETC), Litecoin (LTC), XRP, and other Ethereum-related cryptocurrencies are secure and can be given or received by anybody.
To swap bitcoins, fast and easily link your account to your own custody.
Using your private key, sign communications cryptographically. Check the current asset price in your pocket in your local currency. The business does not have access to your funds.
MUST READ: India's first Zero Waste Juice Bar
4. LocalCoinBazar
LocalCoinBazar.com is a place where you can find people to trade with these could be individuals like you on the other end of the market, or established businesses and brokers.
Buyers and sellers connect on LocalCoinBazar.com to dodge the hassles of centralised exchanges.
Over-the-counter trading is simple, Instantly, safely and Confidentially.
On LocalCoinBazar.com you are dealing with humans. Unlike centralized, stock-exchange-like, bitcoin trading sites, you make a trade directly with another person.
This makes the process lean and fast, as there is no corporate overhead. You get your bitcoins instantly.
Also, LocalCoinBazar.com can support every payment method its user community supports.
For every transaction, LocalCoinBazar.com offers escrow or transaction service to protect the buyer of bitcoins.
Trade process duration from the creation of the user account to having bitcoins in your wallet is a few minutes.
LocalCoinBazar.com payment method supports wide range of world payment methods.
Read more about the security features in the LocalCoinBazar.com site security.
5. Zebpay
ZebPay, also known as "Bitcoin Ki Dukaan," has been providing crypto exchange services since 2015.
To begin trading as soon as your 'quick KYC' is completed, you simply need to register with your cell number.
ZebPay also has a referral programme that will allow you earn 50% on trade fees for new registrations for a year on your ties.
MUST READ: Add me to search: Here's how you can create your virtual card on google
6. CoinDCX
CoinDCX provides India with the most liquidity and allows you to trade more than 200 cryptocurrencies on the site.
You may complete your sign-up procedure in seconds by submitting the OTP you received via SMS and email.
CoinDCX can be considered the most versatile platform. In the settings menu, you also teach the fundamentals of investing.
7. Coinswitch
The CoinSwitch app's registration process is simple.
To begin trading, you must first complete your KYC, which you can do by simply creating an account with your cell number.
SEQUOIA, Ribbit Capital, and Paradigm, three of the most well-known cryptocurrency companies, have backed the application.
In this scenario, +100 cryptocurrencies offer the best rate as well as a wide range of payment choices.
8. Unocoin
Despite India's strict laws on digital properties, the Unocoin wallet is thriving.
The company has 45 key partners and serves over 1.5 million customers. Unocoin is a safe and easy-to-use cryptocurrency.
Both Android and iOS users can utilise the wallet programme. Unocoin is a digital asset exchange and wallet in India.
Unocoin was founded in Tumkur, Karnataka, and is now located in Bengaluru, India.
People can earn Bitcoin by recommending their friends to Unocoin.
Unocoin SBP (Systematic Buy Plan) can also be used to automate bitcoin shopping by protecting against price volatility in a specific quantity and rate.
9. Bitbns
Bitbns is an Indian bitcoin investment network that aims to make things more convenient, appealing, and stable.
Margin trading, pool sales, and several cryptocurrency drops are all available on the site.
The app also has a Fixed Revenue Plan that ensures you get paid from your cryptocurrency investments.
ALSO READ: This scooter will run 125 km in a single charge
10. BuyU Coin
The BuyUcoin Android Platform appears to be the greatest cryptocurrency trading app for users to safely store, purchase, and trade INR or fiat currencies, with over 500,000 verified users.
Bitcoin (BTC), Polkadot (DOT), Chainlink (LINK), and Litecoin (LTC), as well as Bitcoin Cash (BCH), Etherum (ETH), Ripple (XRP), USDT, and others, can be acquired instantaneously on the BuyUcoin application or website using a debit card, credit card, online banking, or Wallet.
There are no trading fees on the BuyUcoinEz OTC Desk. Each individual can deposit or withdraw money instantly and 24 hours a day, seven days a week.